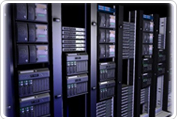 Networx Solutions Inc. is a Toronto based company that specializes in Network Cabling and Electrical Services. Additionally, we also offer installations of CAT cables, Ethernet, Fiber Optic Backbone, Patch Panels, RJ45 Jacks, Modular Tips, Patch Cords, Computer Cabinets, LAN Racks, Cable Tray, Cable Management's and much more!
Our Clients are small / medium sized businesses and multinational corporations as well. We have worked with all the major banks in Toronto, such as: Scotiabank, BMO, CIBC, RBC Royal Bank, TD Canada Trust and other firms such as The Toronto Stock Exchange (TSX).

Our Guarantee is the best in the industry. With a 15 year warranty on all network installations, a 24/7 availability, and our company being an Authorized Contractor for the Electrical Contractor Registration Agency of the Electrical Safety Authority (ECRA/ESA), our clients can rest assured that our services and products are of the highest quality.